Faint-end bias investigation (Eddie Schlafly)
I've been investigating correcting the faint-end bias in PS1 stellar photometry empirically over the past several days. Doug Finkbeiner has found that the bias can be seen comparing PS images to PS images with different PSF FWHM, and that this bias can be well modeled as a constant offset in flux (e.g., the following plot).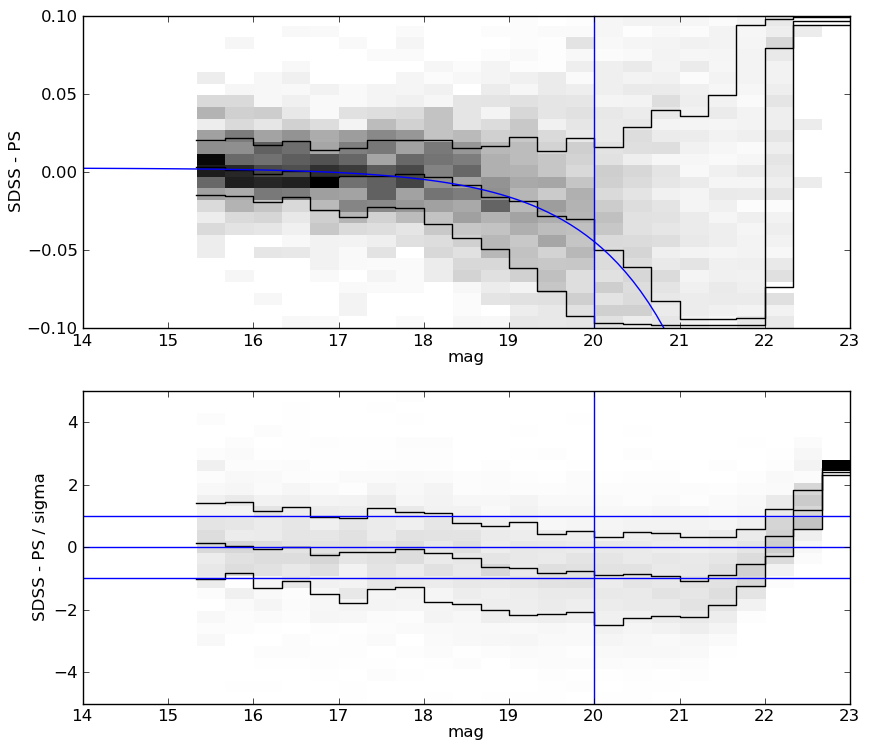 Motivated by this, I have fit a function of this form to every PS image overlapping the SDSS, transforming the SDSS magnitudes onto the PS system following JT's color transformations. This produces a list of flux offsets for every PS1 image. I want to use this information to remove the faint-end bias in all of the PS1 images.
Trend in bias with FWHM
There is a clear relation in the flux offset as a function of PSF FWHM, consistent with what Doug found. The relation is different for exposures in different filters and with different exposure times. Unfortunately, I haven't been able to figure out what controls the differences in these relations. Accordingly, I have just fit a quadratic for the flux offset as a function of PSF FWHM for every exposure time and filter combination. Additionally, I found that the residuals in this relation changed around MJD 55660, and so I fit separation relations before and after that date. The relevant plots describing these fits follow. The title gives the filter, exposure time, and MJD range corresponding to each plot. The 30s y band plot shows what look like two loci, but I haven't been able to figure out what controls the two loci; there is no clear split in MJD or sky background or any other parameter I have looked at.
Test of corrected data
I have then tested applying these relations to images drawn at random from the survey. What follows are a large number of examples of the original data, and then the data corrected according to the relations above. I think the moral is that the correction does substantially more good than harm. Nevertheless, there are clear examples where the correction fails badly.
g 113s
g 240s
g 43s
g 52s
r 113s
r 240s
r 36s
r 40s
r 60s
i 240s
i 32s
i 45s
z 20s (weird camera testing images, but in my copy of the database anyway)
z 240s
z 30s
y 240s
y 30s